Roses for Those That May Lack a Green Thumb
Easy-to-grow shrub types that bloom long and take little care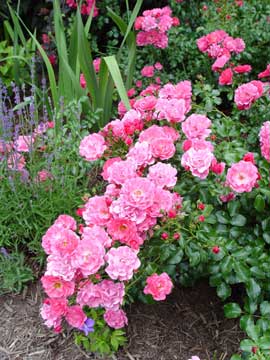 Are they shrubs or are they roses? The recent wave of low-care roses showing up in yards everywhere really is both. They're called "shrub roses," and they've made rose-growing practical and easy even for those that feel they lack a green thumb.
Shrub rose is one of the specific classes of roses under American Rose Society definitions, encompassing disease-resistant, bushy types such as rugosas, musks and David Austin types. But the term is more widely used generically as a rose that looks, grows and is treated much like other flowering shrubs. That means little to no spraying, a once-a-year cutback, and a shrubby habit with lots of branches and smaller flowers instead of long, slender canes with large, singular blooms at the top. Although their flowers can be cut for use in vases, shrub roses generally serve as landscape plants. They've become increasingly popular for their beauty, their long bloom times, their toughness in heat and drought and especially the limited care they ask in return.
Most are resistant to the bane of hybrid-tea, grandiflora and floribunda roses – a fungal leaf disease known as black spot – and many of them also don't seem to be as attractive to the rose's No. 1 bug enemy east of the Mississippi – the Japanese beetle. Most shrub types also are durable enough to fend for themselves without any care, as evidenced by the many Knock Out® roses growing in low-maintenance commercial areas and even along roadside banks.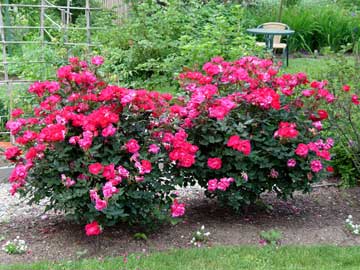 There's a difference between surviving and peak performance, though. Even the toughest of the shrub roses will grow better, look better and bloom longer when given just a few bits of attention per year. Most important is pruning. Left to their own devices, most shrub roses will outgrow their space and/or take on a gangly habit with most of the flowers growing toward the top of the unpruned branches.
A sharp cutback at the end of winter is often enough to maintain a desired size and look. Shrub types aren't as picky about the cane-by-cane pruning that's the rule in growing show roses or varieties bred for cutting. They're fine with being sheared. A second or even third lighter cutback will encourage even more compact growth all season long.
To maximize flowering, fertilize shrub types at least once a year right after the end-of-winter cutback with a long-acting, granular fertilizer, such as Natural Start by GreenView All Purpose Plant Food. Ideally, give young shrub roses booster feedings every 4 to 6 weeks for the first 2 years and one or two booster feedings per season from then on. Hershey Gardens in Hershey, PA uses the GreenView with GreenSmart Rose Food to fertilize their prize collection with excellent results.
Shrub roses are among the most drought-tough flowering shrubs, but they'll perform best when given a soaking once or twice a week during hot, dry spells. Best known of the shrub roses is Star Roses' Knock Out® series. The original – the top-selling rose in North America – is a cherry-red bloomer that grows slightly taller than wide and blooms almost non-stop all season in Zones 4-9. The series now includes seven versions, including light pink, medium-pink, coral and yellow bloomers. Without pruning, Knock Outs® can grow 6 feet tall and 4 to 5 feet across. While Knock Outs® are the best known, other shrub types are available in even more colors and in different sizes and growth habits.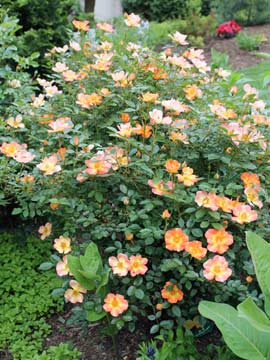 Some other worthy ones to check out:
Drift®. Also from Star Roses, this series is a compact, low, spreading type developed by crossing groundcover roses with miniatures. The flowers are small, borne in clusters, long-blooming and available in seven colors. Zones 4-11.
Easy Elegance®. This series from Minnesota's Bailey Nurseries is now up to two dozen versions in a wide variety of colors, most of them low and either rounded or spreading in the 2- to 4-foot range. The flowers are small but plentiful. Zones 4-9.
Oso Easy®. A line introduced through the Proven Winners brand, these are also compact, low and mostly wider than tall. Some grow as low as a ground-hugging 1 foot tall. Flowers are small and formed in clusters. More than a dozen colors are now available (and counting). Zones 3-9.
Home Run®. Also from Proven Winners and with Knock Out® as one of its parents, Home Run® is a red bloomer with a rounded habit, growing to 3 to 4 feet tall and wide. Besides being disease- and heat-tolerant, it's one of the earliest shrub types to bloom in late spring. There's also a pink-blooming version called Pink Home Run®. Zones 4-9.
David Austin®. David Austin roses come from a British breeder in a wide range of habits and sizes, most of them with old-fashioned, double-petaled flowers and fragrance but with the extended bloom and disease resistance of modern shrub roses. Hundreds of varieties are in the collection of this huge worldwide breeder in any color you can imagine. Zones 4-9
Carefree. Three varieties in this more upright line pre-date Knock Out® but were largely eclipsed when Knock Out® came along. Carefree Wonder™ grows 3 to 4 feet tall and wide and has pink double-petaled flowers. Carefree Beauty™ grows 5 feet tall and wide with single, medium-pink flowers. And Carefree Delight™ grows 3 feet tall by 4 feet wide and has light pink flowers. Zones 4-9.
Flower Carpet. Also an earlier line dating to the 1990s, this series from Anthony Tesselaar Plants is low and spreading but not as compact as Drift®, Easy Elegance® and Oso Easy®. Most of this 10-color series grows about 2 feet tall and 3 to 4 feet wide. Zones 4-11.