Enjoy a weed-free lawn with easy-breezy application you can do yourself!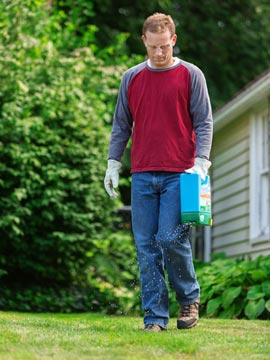 GreenView's popular weed and feed product just got better. If you're sick of wrestling out the old spreader each spring and struggling with big heavy bags of fertilizer that are more product than you need for your lawn - GreenView's new Ready2Go Spreader™ is a right-sized, timesaving alternative. This new product is an all in one solution - weed and feed with integrated spreader that's lightweight, handheld and battery-powered. You can get started at the flip of a switch. If you're one of those that use a hand-cranked spreader for fertilizer application, check out the ease and power of the new Ready2Go Spreader!
GreenView's Weed & Feed with Preen® - Ready2Go Spreader is indispensible for the small lawn and is just as efficient on rough terrain, hills and slopes or in tight spaces where a walk-behind spreader is awkward. It also spot treats weeds in larger lawns when a traditional spreader is unnecessary and inconvenient.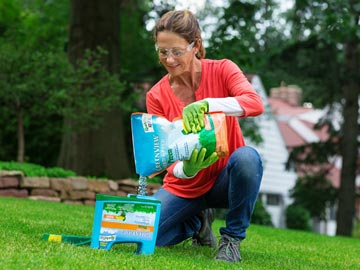 The Ready2Go Spreader eliminates the need for guesswork. There are no hassles of finding the right spreader setting or worries about getting it right. It comes pre-loaded and pre-calibrated to deliver just the right amount of granular product to control more than 250 weeds, including dandelions, clover, plantain, chickweed as listed on the label.
There's no need for measuring or mixing because the Ready2Go Spreader container is refillable. It comes with four AA batteries, which are easily replaced as needed.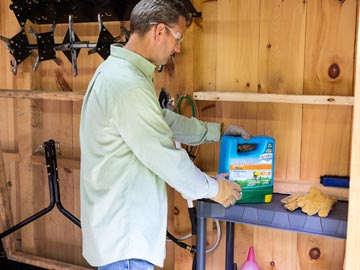 The GreenView Weed and Feed Ready2Go Spreader weighs about 8 pounds and stores neatly on the shelf in the garage or shed where space is often at a premium. The container is sized to cover 2,500 square feet of lawn. Refill bags are also available in 2,500 sq.ft. increments – so you can buy just the right amount of product, for your lawn size.
Give it a whirl this spring – and enjoy the ease and convenience for seasons to come.