September Checklist
Your lawn and gardens will begin to experience the change from summer heat to cool fall days. Now is the right time to renovate, rejuvenate, weed, feed, tidy and trim. The mild weather in early fall, from September through the end of October, is best for planting, cultivating, fertilizing and pest control.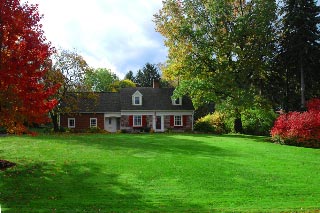 Clean-up the Garden: Prune your trees and shrubs, cutting back dead or diseased limbs, and water. Remove any debris and potted plants from your landscaping. Drain your water hoses and rake, and clean-up flower beds to prevent damage to your perennial gardens.
Plant Cultivation, Seeding and Overseeding: Because fall is an excellent growing season, consider planting cool-season turfgrass in early fall to rejuvenate your lawn. Tall fescue, Kentucky bluegrass, fine-leaf fescues, and perennial ryegrass just love the warm days and cool nights for germinating seeds. Use Greenview Seed Accelerator, which is the perfect product for encouraging seed growth in new or overseeded lawns.
Water and Mow: After planting or overseeding, don't forget to water lightly and frequently until the grass seeds have germinated. Water less frequently as the grass grows to promote the deepening of the root system. Don't forget to sharpen the mower blades to avoid damage to the young plants. Gradually mow your grass shorter as the end of fall nears and winter approaches.
Soil Testing and Preparation: After raking and removing any thatch, if you haven't done so recently, test your soil to make sure the pH is correct and that it contains the proper nutrients required by the turfgrass in your climate zone. If the test shows that your soil is very acid, you will have to apply some lime. It takes a long time for a lime application to show results, so the fall is best for this treatment. In spring, your lawn will reap the benefits! For more information on how to get a soil test, contact your local extension agency.
Fertilize: The fall growing conditions are perfect for improving turf density. The grass develops new shoots and stems, stores carbohydrates as food for the plant, and rapidly produces roots. And that's why fertilizing in fall is really the best time of year to achieve the maximum effect. In early fall, apply Greenview Fairway Formula Fall Fertilizer 30-0-12.
Customers who read this article purchased: